---
What I've learned from cheap overseas chastity cages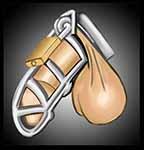 I don't remember who it was exactly but one of the Dommes I follow on Twitter posted something about cheap chastity cages being a waste of money. Now, I want to make it clear that I'm not calling her or anyone else out for their opinion. Everyone, Domme and sub alike, has a right to their opinion. And that opinion can be 100% right for them. Just because you don't agree with someone doesn't mean either of you are wrong. I'm not a chastity expert or anything either. I'm just a guy who's got some experience with them. The whole point of this though article is to explain why I believe a cheap overseas cage is a good way to start out in chastity. Custom chastity cages are expensive and understandably so. They are made specifically for your dimensions and handcrafted by a metal worker who knows what they're doing. I don't blame them for charging what they do.
However if you've never done chastity play before it can be a big jump to spend $400 to $800 on a device you're not even sure you'll want to wear. The other more important part is that you won't even know what you like or don't like about chastity cages if you've never worn one before. So how do you know what to order in an expensive device if you don't know anything about them? That's why I think that if you start on a cheap cage, knowing full well that it won't be your final solution, you'll be better off. It'll be a way to test the waters and see how you feel about it. It'll also show you what you like and don't like about cages.
I've bought 3 cages and honestly the first two were not a good fit. The first one pinched me and was too painful to wear and the second was too big and uncomfortable. The back ring, the part that goes over your shaft and behind your balls, was too tight. After wearing it for a week I would wake up with erections that were literally being strangled by that steel ring. It hurt so bad that eventually I had to take it off. So that one was a complete fail. In total I think I spent around $40 something on cheap cages. And all things considered that's not very much money to explore a fetish you're curious about. If I had popped $400 on a cage that I didn't like because I didn't know what to order I would have given up there and thought myself dumb for wasting so much money. So what do you look for in a cage? I imagine half of you are ready to email me and ask what's the perfect cage under $20 is. The problem is my dick is different than yours. It might be longer, shorter, thicker, thinner, etc. So the cage that works for me might not even fit you. What you have here is the perfect excuse to measure your dick. Get a cloth tape measure. You can find them at a craft or fabric store. You're looking for something like this:
Michaels.com tape measure.
Then you want to take a measurement around the base of your dick behind your balls, the girth of your penis and the length of it soft. Do this a few times at different times of the day. When measuring your girth and around the base of your dick you want to pull the tape measure firmly closed but not so tight that you squish your dick out of shape. Once you have your measurements you need to start looking for a cage. I've never bothered with the plastic ones. From what I've read they break and aren't very secure. I'm sure some of you have different experiences but there is something about having your dick in a steel cage.
Now comes the fun part. I bought my first cage off eBay but the second and third I got from Aliexpress.com. You'll find the same cages there that are on eBay and all over the net just cheaper. The thing is this is straight from the manufacturers in China so shipping, usually free, takes forever. Aliexpress has been pretty good for me. I've received everything I've ordered and it's all been pretty much what was shown on the site. If you put male chastity in the search you'll get tons of options.. What you want to look at is the dimension of the back ring and the length and diameter of the tube your dick goes in. You also want to take a look at the weight of the device. If it's too heavy and it's going to feel like there is a weight attached to your dick. If you plan on wearing it for a long amount of time that's going to get annoying after a while. Look for a device that matches your dimensions as close as possible. You may only get so close. These aren't custom devices so you probably won't find an exact match. Just do the best you can.
Here are some of my mistakes. The first device I bought was one you've probably seen all over the net. The problem with it was that the tube locked to the back ring but there was nothing keeping it in place, Every time the tube moved it would pinch my skin. Most, but not all, devices I see now have two prongs that insert into the back ring. That helps keep it in place so that you don't get pinched. The mistake I made in choosing the second device was picking a cage that was too large and a back ring that was too small. Most of them come with a choice of 40mm, 45mm and 50mm. Some offer a little smaller ring a few offer a little larger. I chose the smaller because I wanted it to be more secure. All it wound up was being so tight it was painful when erect. And the cage itself was harder to conceal in my pants when out in public. You have to be practical. You also have to realize that the first device may not work out. The idea is to start getting some experience with chastity devices to find out what works for you and what doesn't. Once you get your device you want to start out slow. Wear it for a few hours or maybe a day. Then go from there. Check yourself for chafing or any breaking of the skin. I've found that a light coating of coconut oil on your dick makes it easier to get into and more comfortable to wear.
If you've chosen a device that has a solid back ring, no hinge at the bottom, I find the best way to get into it is to pull one ball through, then other and once your whole sack is through you can kind of push your dick inside. If it has a hinge make sure you get a piece of tubing to cover the hinge so that your skin doesn't get caught in it. The problem I've found with the two prongs on the tube is that they always seem to catch on the skin of your dick and you get pinched as you're trying to close the device. Use your finger to squish your dick down as you close the device. It can be a bit of a struggle but if you're careful you'll manage it. Sometimes the back ring acts kind of like a cock ring and if your dick gets semi or hard it's tough to get in the cage. I've put the whole device in the freezer or a glass of ice water to chill it up. That can make it easier to get on.
The third device I got was actually a little smaller that my dick. Not by a whole lot but still smaller all the same. I thought it wasn't going to work out but to my surprise once I got into in it actually felt comfortable. There's also the side effect that I can always feel it hugging me. It's a constant reminder that I'm caged and kind of a turn on. The last piece of advice I'll give you is to avoid the catheters. There are no regulations on these devices. It's very unlikely that the tubes are medical grade plastic and if the metal piece at the end come off inside you you'll have to have surgery to remove it. It doesn't seem worth the risk to me. I hope some of this has been helpful.